The project "Protestart was an initiative and creation of the photographer and visual artist Seyfeddin Erisen from Turkey aiming to protest, denounce, against social injustices, such as exploitation, poverty, hunger, destruction of nature, among others, that is, the role of art in its most comprehensive aspect, having a social function, fighting against all forms of exploitation and cruelty
Many thanks to all the artists who contributed to this project. Without your work nothing would be possible
Regards,
Tatiana Moura 
Douglas Evangelista
Artist: Seyfeddin Erisen, Turkey
https://www.behance.net/seyfeddinerisen

Title: Put Your Mouth on the Trombone!
This art expresses and encourages the movement, pure and simple, to protest, complain, chase your rights and the rights of the collective. Don't conform, don't be overwhelmed, don't give up. Get your mouth on the trombone!
Artist: Mario Carestiato, Brazil
https://www.behance.net/mariolcsil0249
Artist: Lalo Huesca, Mexico
https://www.behance.net/lalohuesca
The title: "Don't be blind 
Artist: "Uncle Ray", China
https://www.behance.net/blue_ray20ed2e
Let's help and support each other  instead of fighting because I believe art has the huge power to transformate our way of feeling and thinking.
And I believe nature perfection exsist in everyone and everything ❤️
Please respect every kind of nature even if it seems different and let's try to find and feel the peace, love and silence in our own heart.
Artist: Monique Ilsink, Netherlands
https://www.behance.net/mbilsinkphotography
The geological wonderland of Eldvörp faces imminent danger as construction plans have been approved that will cause irreversible damage to this unique Crater area.
Eldvörp is a part of the boundary between the North America and Eurasia plates and the geothermal fields are situated at the heart of the craters row.
Alterra Power has plans to build a 50 MW power plant in Eldvörp, for which both research and utilization leaves have been granted.
The Icelandic National Planning Agency has already stated that this project will cause irreversible damage to the area.
THIS MUST BE STOPPED
Rafn Sig,-
Artist: Rafn Sigurbjörnsson, Iceland
https://www.behance.net/RafnSig

Artist: Nick John, Sweden
https://www.behance.net/nickjhon
The title: The bride (mixed media)
Children without childhood".
Artist: Rita Quattrocchi, Italy
https://www.behance.net/rita4occhi61ad

 The title: "War Kills Life".  
My artwork expresses War as the most destructive, violent, cruel, and deadly of all human activities. War kills lives, families and communities and produces physical, psychological, social, cultural, and economic aftermath. It kills unborn babies, exploits children and destroys the environment.  Despite its horror, I illustrated a stream of different colours to express the power of hope, survival and prosperity in humanity. Only art can profoundly portray the total experience of war and how it shapes our lives forever.
Artist:Patricia Concha, Australia
https://www.behance.net/patriciaand1fb
The title: Homeless people
Not having a home means…
Being forced to sleep on the street or in a shelter.
Living in a shack or in overcrowded flats.
Living in temporary institutions, like prisons or hospitals.
Suffering gender violence and being obliged to live in a women's shelter.
As a partner of the European social organisations working for homeless people, we recognise a classification called 
ETHOS
, which establishes the above-mentioned examples among others.
Arrels focuses its work specifically on the homeless people who sleep on the street.
Artist: Rossend Gri i Casas, Spain
https://www.behance.net/rossendgri737f

Protest art is perhaps the most important type of art. Because a real artist deeply feels harmful conditions such as disaster, war, inequality, consumption madness, the slaughter of nature, disease…
It is a bush that resembles a charming tree with games of color and light at dawn, and it says: "I may be a bush that can be kicked with your foot, but with the help of the protest art I can turn into a large endangered tree, 
so please protect me and protect nature"
--
Artist: Beyhan Sareyyüpoğlu, Turkey
https://www.behance.net/beyhansareyy
The title: "Tears"
Tears for lost black lives
Tears for prejudice of any kind
Tears for sexism and violence against women
Tears for the burnings in the Amazon
Tears for poverty and hunger
Tears for lives lost by COVID-19
Tears for denial, alienation and passivity
Let us fight for a Brazil and an egalitarian world, in which we are not divided by color, origin, sex, religion....
We are all equal and have the right to a full life
Artist:Tatiana Moura, Brazil
https://www.behance.net/tatimoura77a67

Art is always a balancing act on what and how to express. It can be interpreted in many ways. Here Gabriella demonstrates the beauty of the human form. She is wearing a top handmade by designer Tia Adeola that uses fashion to rewrite history, particular for people of color. Continue to have fun and enjoy art!
Artist: Visionsmerge USA
https://www.behance.net/rfuphoto
The massive building on the left side is the MAS museum in Antwerp City.
A real landmark and a piece of architectural art.
Inside the building are there a lot of different exhibitions where they present a lot of art.
The half globe at the right side was temporary created for a technology event in 2018.
Art is important to a city and its community and should always be displayed.
Mark Mertens, Antwerp, Belgium .
Artist: Mark Mertens, Belgium
https://www.behance.net/mark_mertens

Artist: Paola Bottoni, Italy
https://www.behance.net/carcamafdce
The Sewer Drain workers are underpaid contract labourers in developing & underdeveloped countries. They go down in Sewer, unprotected, almost bare - exposed to poisonous gases, acidic dirt & insect bites which cripples their lives in the long run.
Artist: Chandrasen M. Salvi, India
https://www.behance.net/cmsalvi30

"The title: NoMore".
Concentration Camps are a crime against humanity. So are refugee camps. Reservations for the Indigenous races to name but a few.
Maybe some time in the future all of us may live as humans with free speech, where we do not see the colour of a persons skin.
Artist: Peter Sauermann, Netherlands
https://www.behance.net/imagezNL

El arte siempre ah ayudado a lo largo de muchos periodos históricos a las diferentes culturas a manifestarse, ya sea denunciando, yendo en contra de los que desean silenciar la verdad, como un ayudante para mostrar actitudes, esperanzas, denuncias, sufrimiento, verdad, etc. Esta es solo una faceta del arte de las muchas que tiene, que continúe cambiando, manifestando, convirtiéndonos combativos y observadores activos.
Art has always helped to different cultures to manifest themselves throughout many historical periods, either by denouncing, going against those who want to silence the truth, as a helper to show for us attitudes, hopes, denunciations, suffering, truth, etc. . This is only one facet of the art of the many that it has, I wish that it continues to change, manifest, become us combative and active observers.
Claudia Gorena
Illlustrator and Graphic Designer
Artist: Claudia Gorena, Bolivia
https://www.behance.net/claudiagorena
 The title : Some people want to watch the world burn.
This generation has never known an Earth that wasn't on fire; or threatened by climate change or by human destruction.
The forests are burning, the glaciers melting, species threatened by extinction and the seas are rising.
I wonder how much longer we can hold on before we reach the point of no return. 
We need to stop watching the sky being painted red and take action before it's too late!
Artist: Vanessa Wenwieser, Germany
https://www.behance.net/vanessa207a
Bitter and sweet
Miniature heroes act by invoking scriptures to achieve their goals. Night took an oath of allegiance to stop the hands of the clock, and she went on a journey in search of a new victim.
On the other hand, Satan is never wrong in his coordinates.
An army of passion, easily conquering the stairs, decides to conduct a ritual of wild feelings to the sounds of the ballet Seven Beauties. A bottle of wine, testifying to betrayal, is opened at the beginning of the final stage of the rite.
At this moment, two shots are fired.
When you listen to the pleas on the didgeridoo trumpet, remember the unfulfilled dreams of the negro. See how an angel-like beast in the Grand Canyon canyon casually enchants and devours tourists.
Death is predetermined to everything. No one will escape doomsday. Will the punishment for traitors be more severe?
Everyone will be hanged on their own feet!
Is the savage still at large? The poachers hunted him for four weeks and finally hung the beast by the legs.
His hunt resonated throughout the world.
How it was?
He was handcuffed inside the cage.
It was publicly shown around the world as a lesson. He was later tortured to death. His ashes in the electric chair were cut into pieces and hung on streets around the world.
This time, the night took a rash decision.
The watch followed her every movement through the camera.
Night I hate you and I'm tired of your lies.
Light falls on my eyes, as if longing for light.
Take these lamps away, I'm already sick.
Do you want to talk, come on, I'm listening to you time.
Show me your inhibitions and I will stop following you
Artist:Yunis Veliamin, Azerbaijan
https://www.behance.net/yunisadgezalov

The title: The Balancing Elephant
Artist: 
Carolyn Sehgal, USA
https://www.behance.net/carolynsehgal

The world has lived from its beginnings A LIE, The man is extraterrestrial? A God? Perhaps because he was born with a masculine gender, he is a being superior to a woman. Women carry life within them and despite that they have been looked down upon. We are animals ... in which force is our superiority mechanism? NOT! all that in these times of human evolution IS UNACCEPTABLE
Artist: Bryan Guerrero, Ecuador
https://www.behance.net/bryan1718

The Title: Art-life.
Media: mixed
Size: 10.6X16.6 inches 
year:2021
Artist: Helena Layzu, Bangladesh

https://www.behance.net/lyzu770479e0

The title: The Spirits of Freedom
Autor Bogdan Wziątek University of Warmia and Mazury Poland
Tekst:
In Poland, the destabilization of the law system has been going on for 6 years. The Human Rights of minorities, especially sexual, and the right to equal rights for women are also more and more frequently violated. The fight against the growing totalitarianism in Poland is difficult and requires a lot of dedication. Nevertheless many people, go out on the Street and protest. Thanks to Art we can move the world of good and beauty in order to get strength for daily fights in the sake of Human Rights in Poland. Art gives us the strength and courage to go out on the streets and shout our opposition. For us Art is the spirit that leads us to freedom. 
Photos in collage shots during the demonstration in Warsaw in the winter of 2020/2021
Artist: Bogdan Wziątek, Poland
https://www.behance.net/bogdanwziatek

I CAN NOT?
The impossibility of making art is a serious form of violence. The impossibility of making art is fought by making art! I'll wear the greenest guitar I have to defeat even one insignificant "you can't"! 
I CAN!
Artist: Giù Di Meo, Italy
https://www.behance.net/giudimeo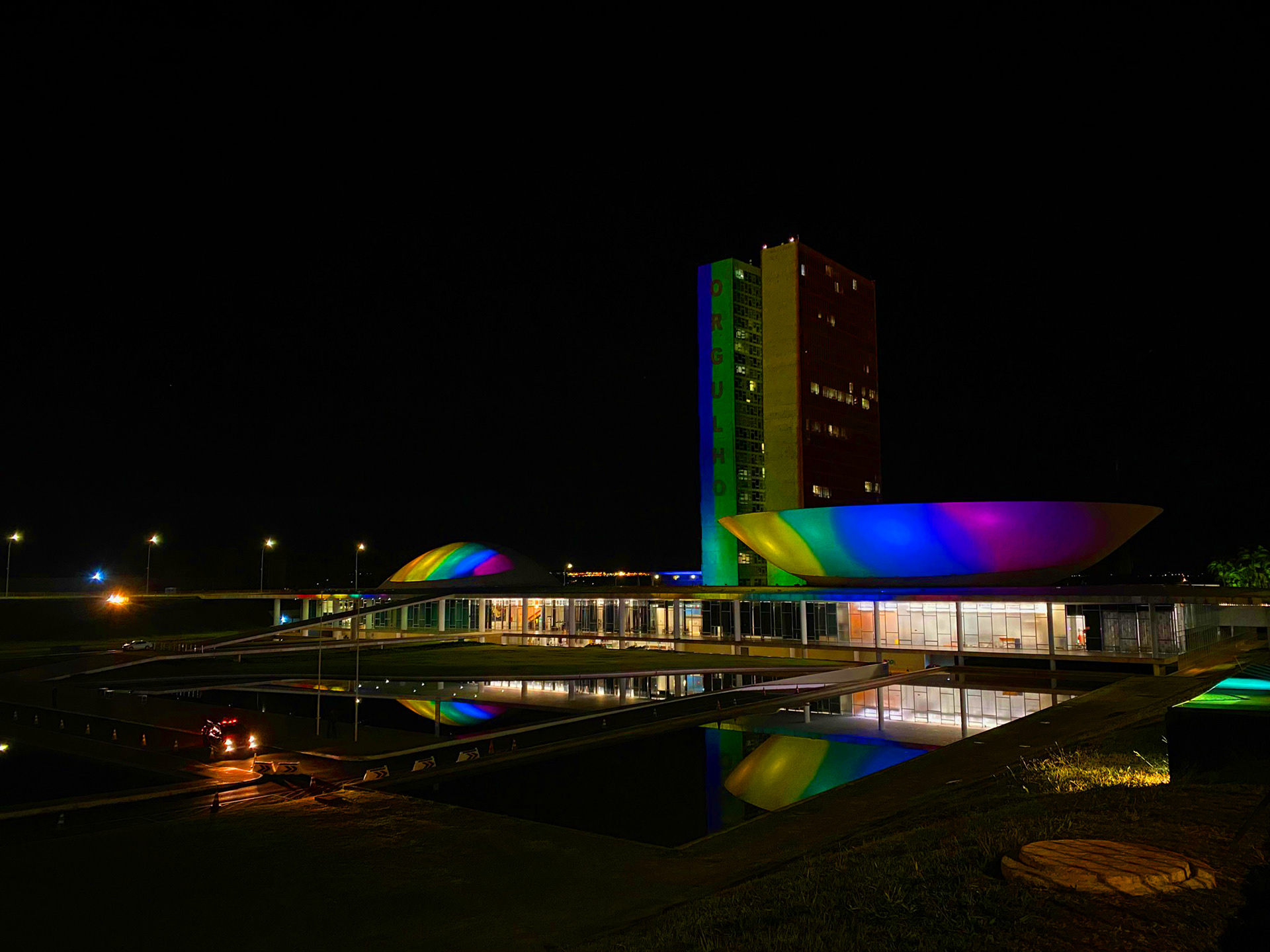 Title: Rainbow
Brazil is going through a delicate moment, with an extremely racist, xenophobic and prejudiced government, and having the building of the "National Congress" illuminated with the colors of the lgbtqia+ cause is a form of pride and, above all, fight and protest against this negligent and genocidal government.
Artist: Douglas Evangelista